What comes to your mind when you read this title? Do you realize your potential as an individual? Have you ever thought of it? How to find your purpose and passion in life?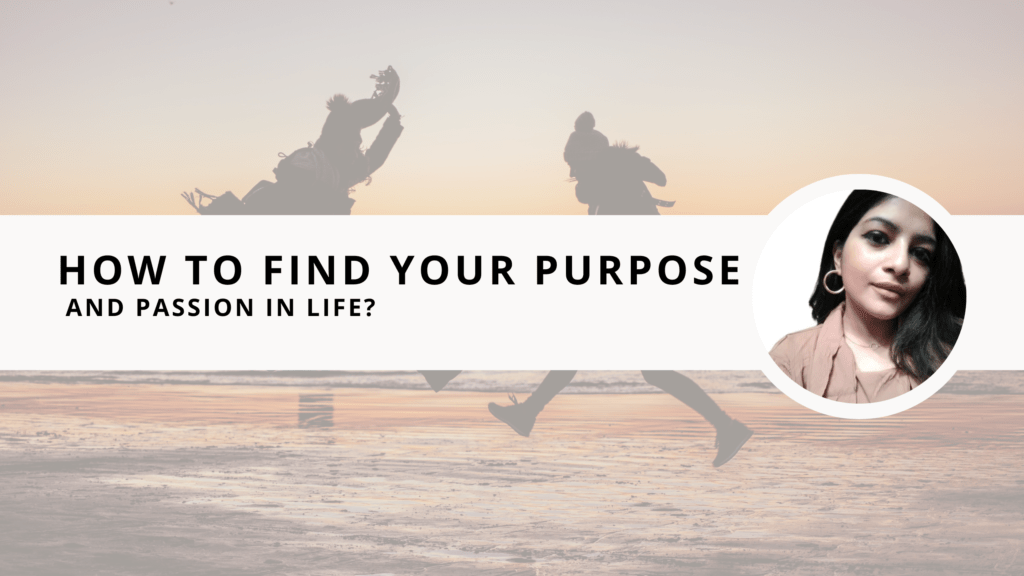 The current population of the world is 7.8 billion. So, what differentiates you from the rest of the people on this planet? Have you ever processed your thoughts about the difference you can make? Do you give time to find yourself? Have you realized what is your passion and purpose in life?
If you found yourself with a 'yes' to any of my above questions, then consider this:
A series of surveys done in 2017, concluded that as much as 95% of people think that they are aware of their potential and capabilities. But only 10-15% of these are truly aware of it. This implies, that as many as 90% of the world population is living in an illusion about themself.
Now, would you like to rethink your answer? You probably would. In fact, you should. This blog is all about helping your answer the question in the title: How to find your purpose and passion in life? Let's go!!!
How to find your purpose and passion in life?
Knowing about your potential takes time. You don't suddenly realize one day that you have what it takes to create a difference. It takes a lot of self-talk and self-realization to understand what and who you ought to be.
The reason why people live in this façade of knowing themselves is nothing but unawareness and absent-mindedness. There is the 'feel-good' sense that one goes through when one subconsciously pretends of knowing themselves, even when they don't.
The most effective way to find and be yourself is to experiment with yourself. Because sometimes all you need is a chance for yourself to truly explore your purpose and passion in life. To do this, you ought to be true to yourself.
Why haven't you discovered your purpose and passion in life yet?
Taking up a career or choosing something for yourself because of society is torture to go through. Opting for a future that you don't enjoy is synonymous with being imprisoned for life.
This is a reason why so many people don't like their jobs. They wish they could get rid of it somehow. If you choose your future according to someone else, then you don't get to blame them in the future.
Yes, you could be forced to make a certain choice. But, standing up and fighting for your choices is your decision too. You might also point toward the difficult situations in life that led you on an undesired path. But, can you blame the circumstances when you chose to kneel down and surrender?
It all comes down to how you look at things and the mindset with which you move forward.
Often times people blame their parents for not allowing them to choose for themselves. But, hear me out, no parent would wish or choose wrong for their child. The difference that we see in the thought process is what is termed the 'generation gap'.
Your choice of work or the path you wish to walk on might be unconventional. But, sometimes, all you need is simply to speak your heart out to the people who matter to you.
Taking hold of your choices in life and understanding your right over it might hurt or even disappoint a few people for a short period of time. But tomorrow, when your parents will see you happy with your choices, they will accept your choices too.
How do your choices help you?
The only key to being successful and happy on the road to life is: choosing yourself. The choices we make today shape our future.
Embrace yourself, your future self will truly thank you for it tomorrow.
No matter what you do in life, someone will always remain unhappy with the moves you make in life. You cannot please everybody in life. You have to stop being a people-pleaser. Work on ways that bring sanity to your mind and heart. Because, in this world of pretentiousness, if there is anything that is extremely hard to find, it's peace of mind.
Today, peace of mind is a luxury to achieve. The richest people sometimes don't have it. If you haven't found that yet, you need to reflect on the choices you have made for yourselves. You need to question your decisions.
Most of the time, what you choose for yourself will be unacceptable to a lot of people. But, as long as it doesn't cause any harm to anybody, please don't give up on your faith.
Remember, there are a lot of people doing the same thing that you do. They are offering the same services in the market, they are your competitors in business. But, none of them will ever do it like you. And that is your superpower.
You, your existence, your authenticity- these are your superpowers. The thoughts you possess are just like DNA, never the same for two individuals. Your perception and belief in your dream are your strength. Being yourself and doing things your way is the sword you carry to weed out anything that stops you from reaching your goals.
Don't let your potential go to waste in the light to answer society and people. No one is too important for anybody to remember it. And, nobody should have the right to intervene in what you desire for yourself.
If you wish to work on it today, it will surely give you the results tomorrow.
Conclusion
No seed once planted ever dies if it is nurtured with everything that is important for its growth. Therefore, the seed of faith you plant for yourself today will grow into this massive tree of satisfaction. You must feed it with hard work, self-belief, and consistency.
The woman who is writing and delivering her skills to you every week has wasted a lot of time to finally acknowledge her qualities. She has taken a lot of 'what if' from her parents and herself. She has been questioned about her abilities to make a living out of herself in life.
And now that she has realized and figured out her purpose, I assure you – She'll be unstoppable.
Even though, it took her an entire pandemic to finally make a move and choose the right thing for her career. She has simply become too relentless to give up on her goals.
And, as you end this week's read here with me, I hope you find your world of happiness too.
I believe you will 😉
All you need is a little faith in yourself, to begin with.