These workspace essentials are what I swear by as a remote worker. These 17 everyday workspace products have made my life so easy and I cannot recommend them enough. 
As a remote worker, I spend most of my days indoors. I run this blog and I also work as a freelance blog writer in the health & wellness space. 
Since I work from home, this makes it super important for me to keep my workspace safe and clean. It impacts my mood and my work. 
Now I like to keep my workspace organized as it boosts my productivity and helps me manage my stress without creating any fuss. 
This organization could not have been made possible without my workspace essentials. Thus, here are my best 17 workspace essentials that make it easy for me to work from home as a writer, blogger, and content creator. 
17 Best Workspace Essentials You Cannot Miss as a Remote Worker
When I began my career in 2020, I started setting up a workspace with what I had at home. Over the years, as I started earning, I have invested in many high-quality workspace essentials that I swear by today. 
Here's a list for you to get inspired and spice up your work setup on a budget. 
1. Office Table 
This was the first thing that I added to this empty corner of my room that has turned into my workspace today.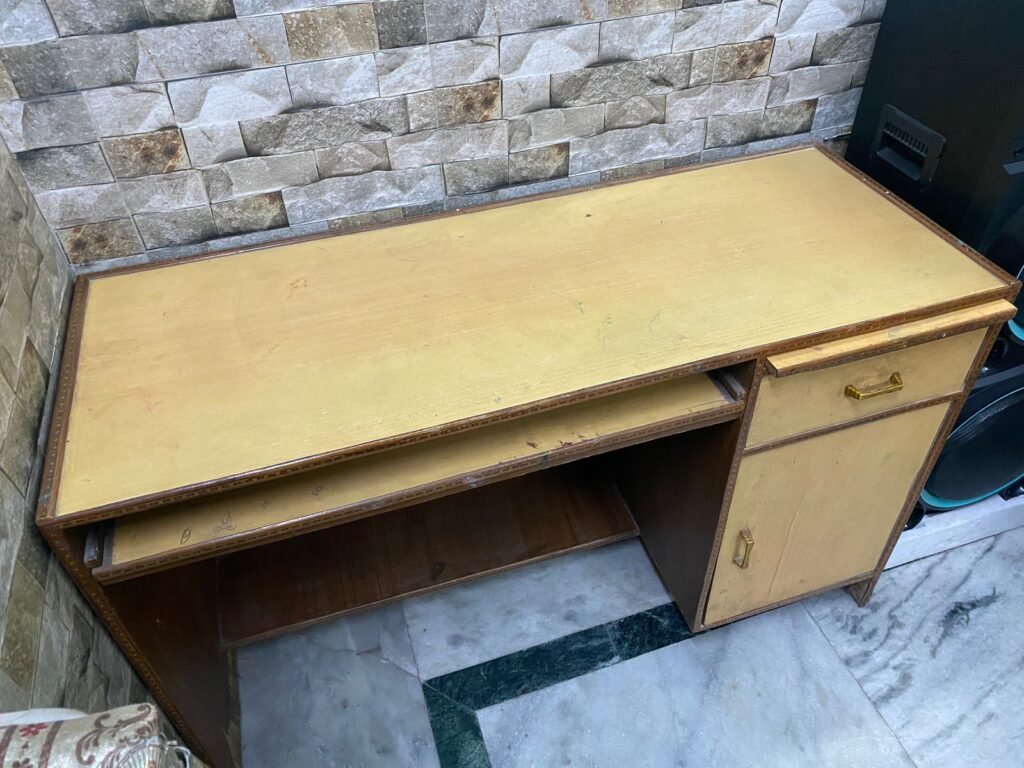 My father got this work table customized for us from a local carpenter when I was in school. Since then, it has been an important addition to my workspace. 
Though I couldn't find a replica, I found something similar for you guys here.
2. Table Lamp
Ever since I started my writing journey I knew I'd have to build a daily writing habit. While I did that, I also took the initiative to build a reading habit for myself. 
Today, I don't just read as a part of my job but I do it because I enjoy it. Also, I have built this habit of reading before bed. 
So as a gesture of love, my partner gifted me this beautiful table lamp on my birthday this year.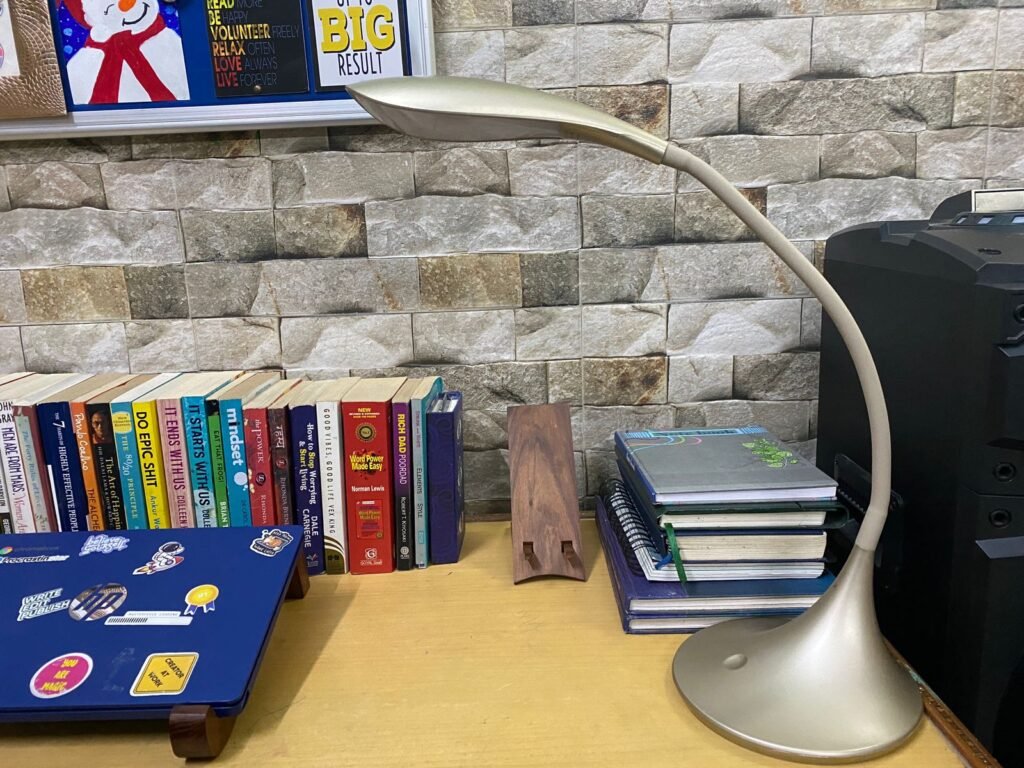 It doesn't just add to my workspace essentials but also elevates the whole ambiance. Plus, I get an exquisite reading experience. 
Here's the closest table lamp I could find for you online, you can buy it here for yourself.
3. Office Chair 
My brother bought this office chair for himself during the pandemic when he was working from home.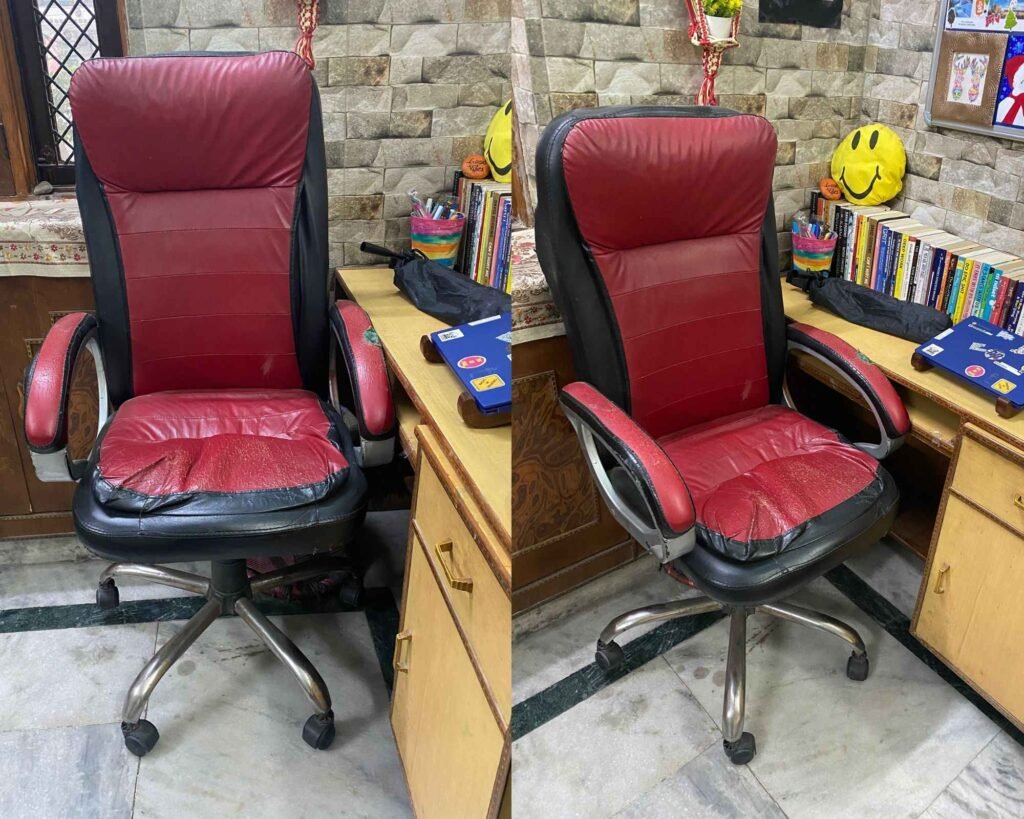 The pandemic ended, he went back to the office, and the chair was left alone. So, I added it to my workspace and now I use it for myself. 
If you have seen my YouTube videos, you will be familiar with my work setup and the office chair I use. 
It's quite sturdy. Plus, it has added a lot of value and grace to my workspace. You can invest in one for yourself here. 
4. Workspace Essentials: Books
I started reading because it was necessary for my writing career but it ended up becoming the most fulfilling habit of my daily routine.
Though, I started my reading journey by reading "On Writing: A Memoir of the Craft" online from Z Library. My love for physical books has only grown over time. 
This is why last year I went to the local book market in my city and hoarded some best-selling self-improvement books.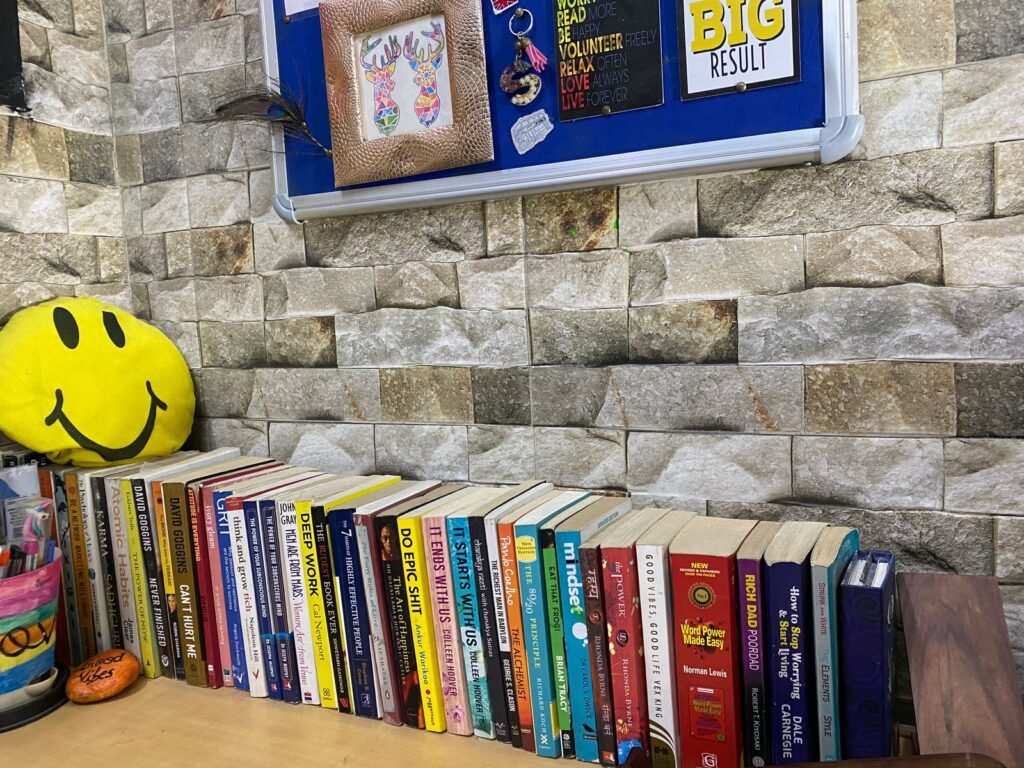 The next day, I arranged them in a descending order on my office table and they made a perfect addition to my workspace essentials. 
Since then, whenever I am out and about there has hardly been a time when I have returned home without a new book. 
5. My Chromebook 
I got my HP Chromebook in the middle of the year when my old laptop nearly died. I had a great 2.5 years with that second-hand laptop. But it was time for it to go. 
The Chromebook is what I work on now. I love how lightweight and easy to carry it. I can travel with it and take my work anywhere with me.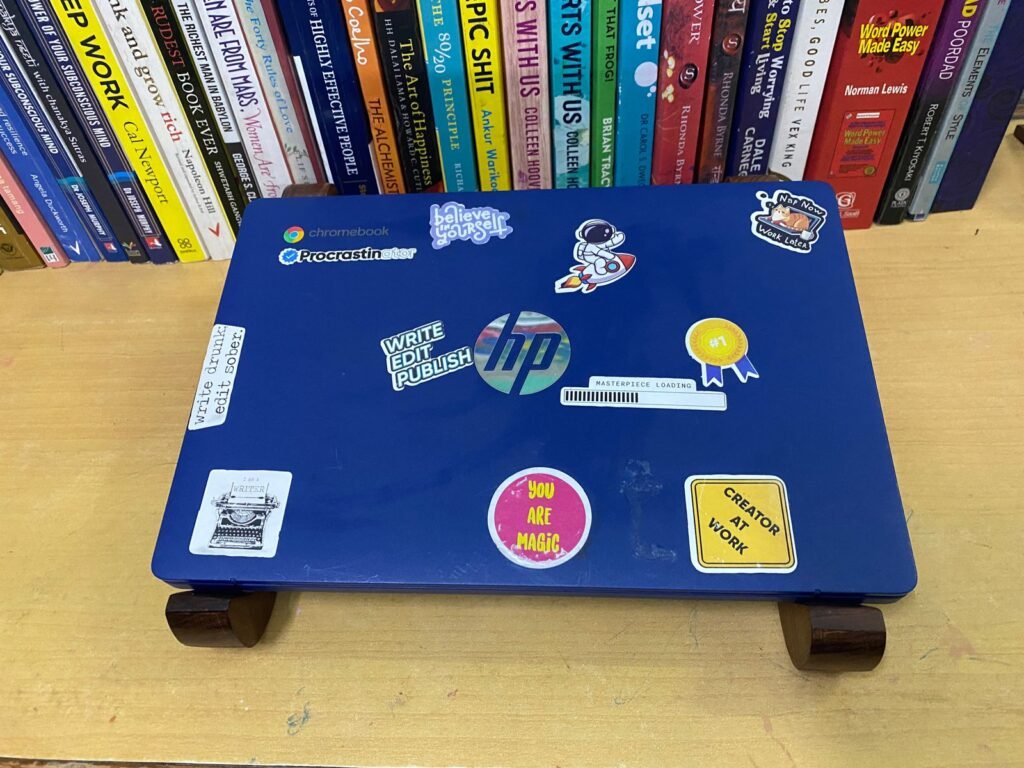 The best part is how it works directly on Google Drive and I don't have to go back and forth in saving all my documents online and offline. 
It helps me to organize my client work and blogging work effectively. I would highly recommend it if you're on a budget to buy a new laptop. 
6. Laptop Stand 
While we are talking about the laptop let's talk about this pretty wooden laptop stand. 
You would be familiar with my pretty laptop stand if you have seen any of my videos on Instagram or YouTube. I have entertained so many, literally, so many queries about it.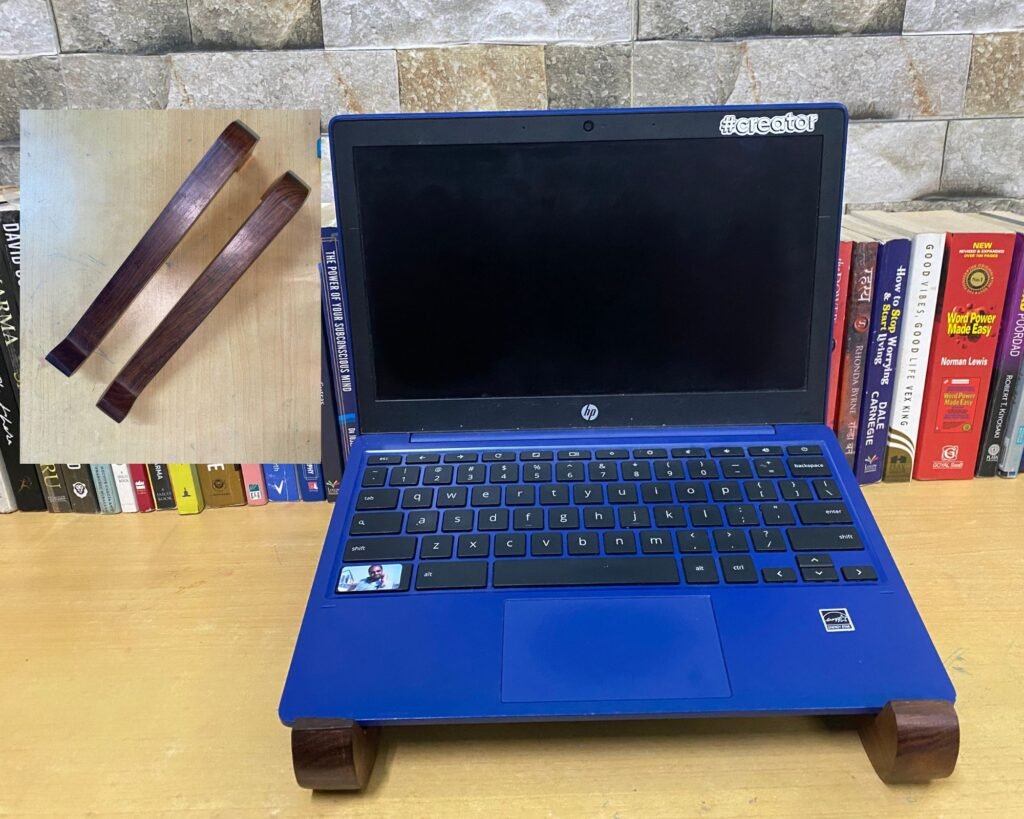 It is as beautiful as it looks in the picture, plus it also makes it easy for me to work whenever I am writing from my workspace. 
As a writer, my creativity flows from sitting in different places in my home. However, this laptop stand is especially helpful when it comes to my video content. 
7. My Mobile Phone 
As a writer and creator, it was important for me to get a high-functional phone. And what's better than an iPhone when it comes to that? 
Coming from an Indian middle-class family, owning an iPhone was always a dream. I never thought I'd be able to buy it. 
But, my passion for writing did that. I got my very first iPhone after a year of working as a freelance writer. 
It is, by far, the best business investment, the best business investment. 
Since it was important for me to invest in a phone that makes it easy to create content, I am quite satisfied with mine and I don't think I am ever switching back to any other phone.  
8. Phone Stand 
I got this phone stand along with the laptop stand. 
It does two main things that make it a hit on my list of workspace essentials. 
First, it does a great job for the purpose it is meant for. Second, it adds to the overall aesthetics of my workspace. 
I mainly use it for my video calls, whether that's to catch up with my old clients or just to hang around on call with my cousins. It's definitely worth an investment. 
9. Web Camera 
I got the Lenovo HD Webcam to elevate my client meeting experience and since then it has served many purposes.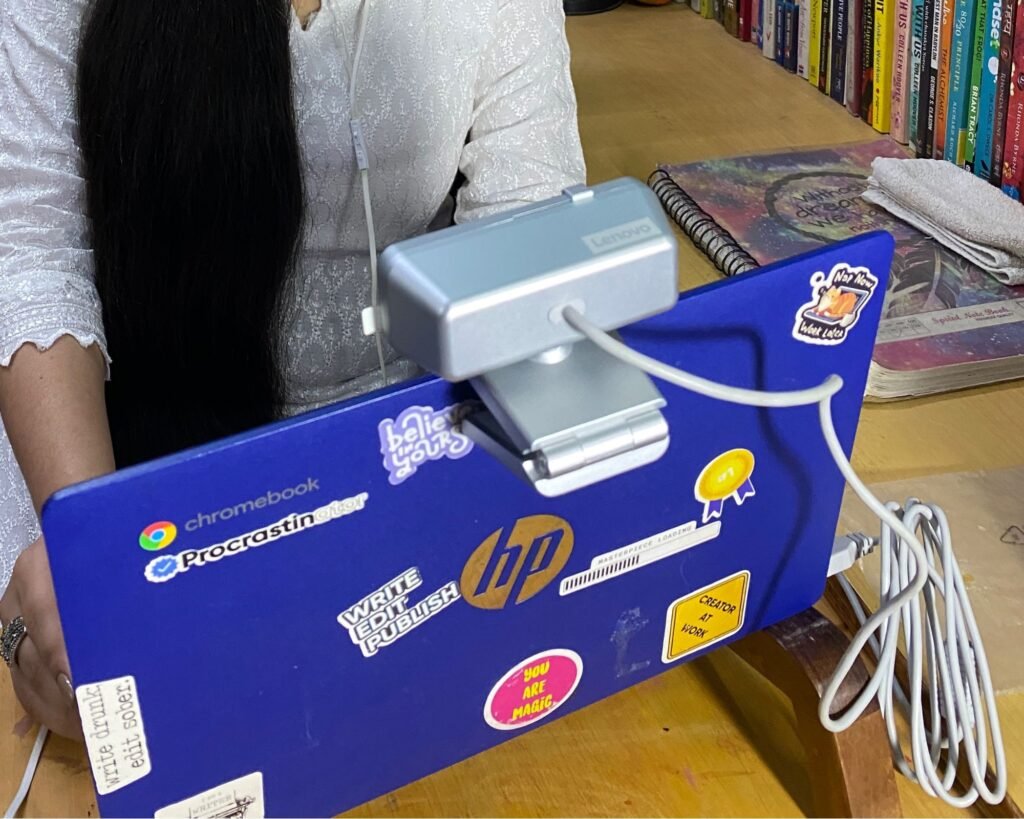 I use it for my freelance writing client calls and for my 1:1 freelance writing coaching calls. 
Recently, I used it for my 2-Day Blogging Workshop. While the workshop was a great success, I cannot take away the credit from this little gadget that helped me run all of it smoothly.
The video clarity is just superb. I love how it comes with an inbuilt microphone. 
10. Notebooks
I know you might think this is too obvious. But, here's why they are on my list. 
As a child, I was hyper-organised with my school and tuition notebooks.
As they say, old habits die hard, this one has clearly followed me as an adult. 
I have a different notebook for every single purpose, which is why a corner of my table has so many of them. 
I have one for my freelance writing notes, one for my blogging notes, one for random journaling, one for business journaling, and a separate notebook for all the undesignated work. 
Thus, they are here in my workspace essentials list. 
11. Yearly Planner
Ever since I started my writing journey, I knew I needed to be more organized on paper. 
I am a pen and paper. Hence, I like to keep it the old-school way. 
Over the years, I have had different planners. 
In my first year of business, I used a blue, floral single-line diary to manage all my work. 
In my second year of work, I used an old notebook that was lying around. 
In my third year of being a professional writer, I decided to be a little more organized when I invested in a designer planner from an Instagram business called artloom. 
I have written in this planner every night before going to bed and this has only added to my productivity. 
Plus, I was so impressed with their planner that I have already ordered and received my new year planner 3 months in advance to implement my plan and stay on track with my new year resolutions. 
However, I started with a simple notebook to track my personal development plan. Now, I cannot even think of my work without my yearly planner. 
It is the most significant part of my daily routine and workspace essentials. 
12. Tripod Stand 
While we are on my YouTube Channel how can I miss my Tripod stand? This is the most recent addition to my workspace essentials. 
God knows I needed one so badly. Being a writer is so much more easy than recording videos. 
Starting my YouTube channel has made me respect content creators a lot more. It might seem easy on the camera but it's not.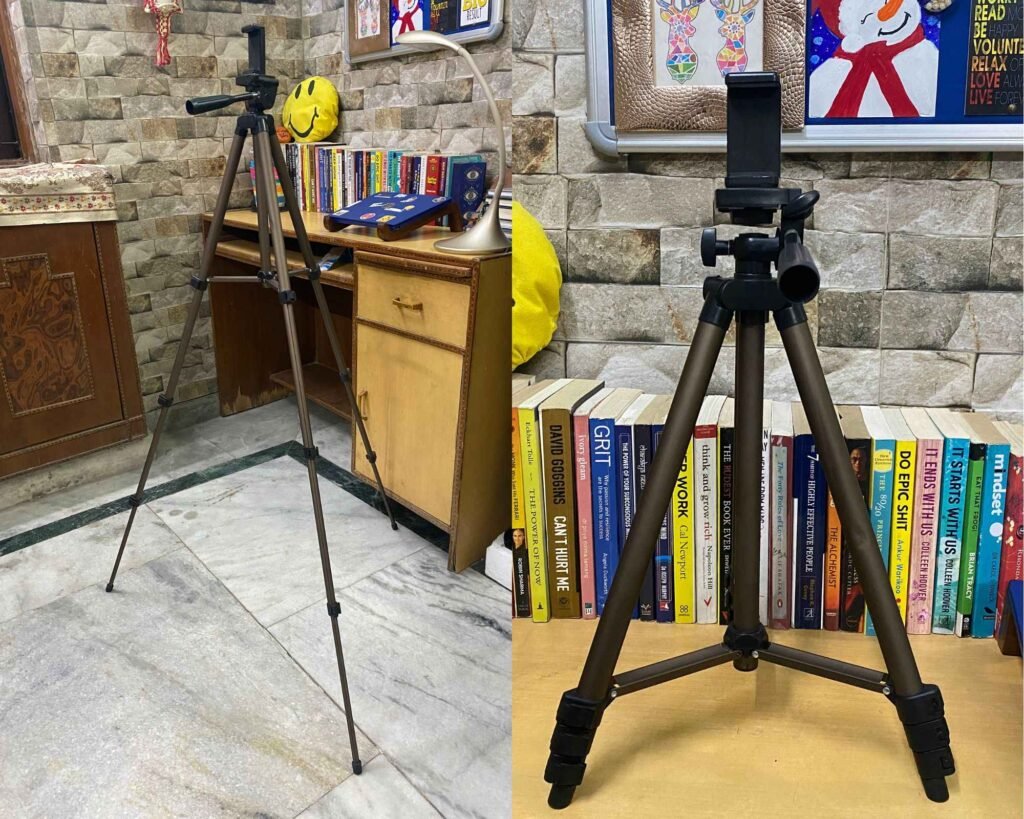 This tripod stand has not simplified my video content creation but it is also a super handy tool for me to connect with my audience. I also use it to go live on my Instagram and chat with my audience. 
13. Bulletin Board
I added this bulletin board to my workspace essentials last year because I wanted to be reminded of my goals throughout the year. 
It has my vision board, a few of my favorite mindset quotes, some stickers, and my niece's creations.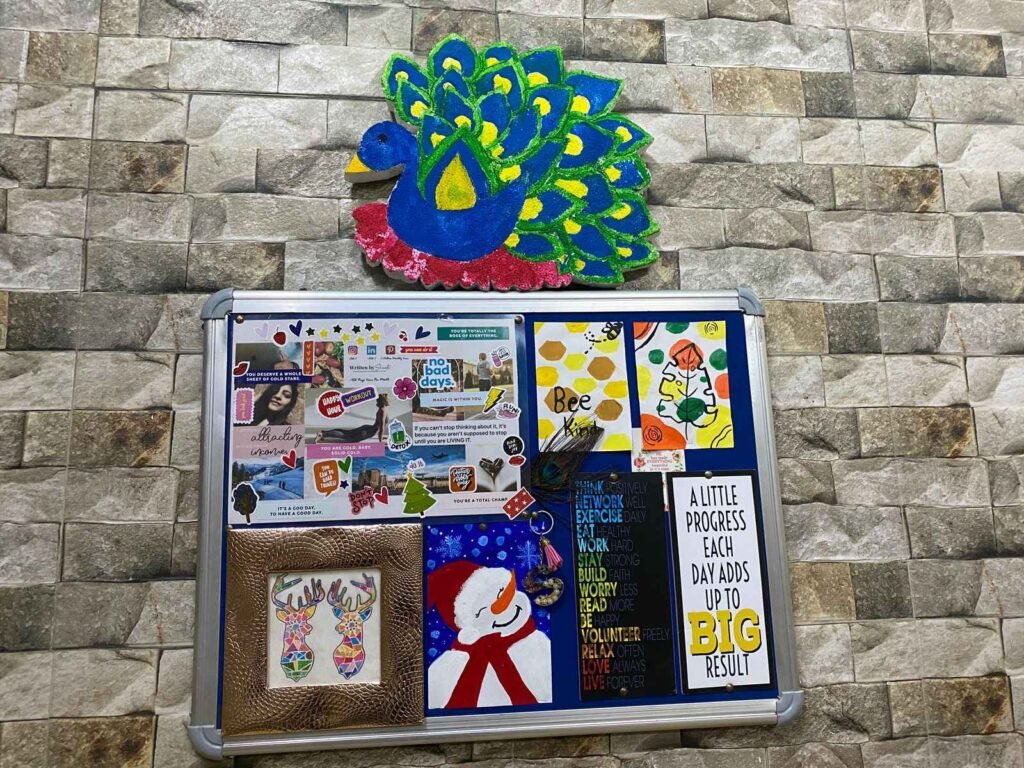 My niece and I got this from a local stationary shop and it has definitely added to the aesthetics of my workplace. 
I also use it to pin any important daily reminders for myself. 
The good news is I found the exact board online. You can buy it here. 
14. Artificial Plants 
I saw a video on Instagram by Ali Abdaal where he shared a study that concluded that keeping artificial plants in your workspace can declutter your mind and improve your productivity.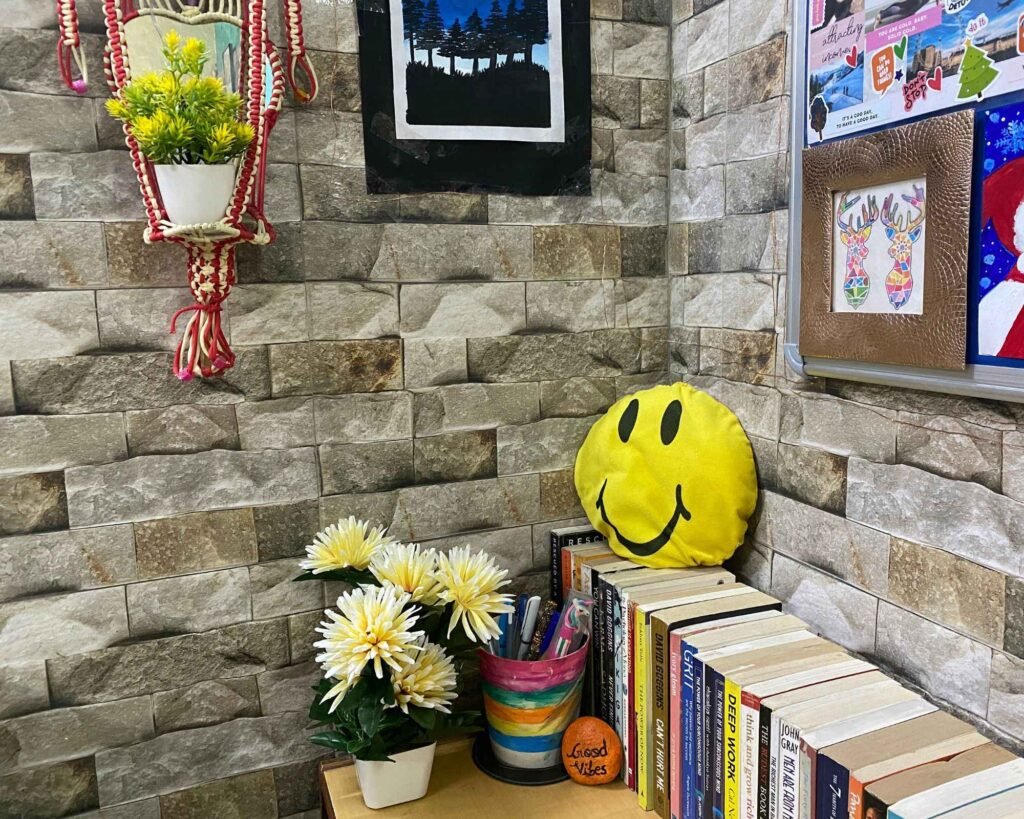 This is because they add more color and visual appeal to your workplace and boost your morale. Also, not to forget, they add a little touch of greenery to it. 
Though I found it weird in the beginning I ended by buying one and it has only added to my workspace. 
15. Decorative Mirror  
I got his beautiful decorative mirror for my Diwali decor a few years ago from our local Diwali market. 
For a long time, it was kept inside because I didn't know where to use it. 
However, as I started building my workspace, it made more sense for me to add it to this place. 
Since then, has been a cute surface to hold by an artificial plant while it adds to the whole mood and ambiance of my workspace. 
16. My Niece's Creations
All the handmade creativity that you can spot in all the pictures used in this blog are my niece's creations. 
The background painting, the good vibes stone, the colorful pen stand, the dear head frame on the bulletin board, the painted cards on the right corner, this is all her work. 
She is only 12 and her creative skills are so good. Some days she really surprises me with her work. I didn't even have an idea about my middle-school plans when I was 12 and this girl already knows what she wants to do.
To motivate and push her more to pursue her creative skills, her mom and I even started a YouTube channel for her. 
You can support her too by subscribing to her channel here. 
17. Fairy Lights 
These are the latest additions to my workspace. I got the fairy lights with the tripod stand and as you can see they have elevated the whole vibe of my workspace.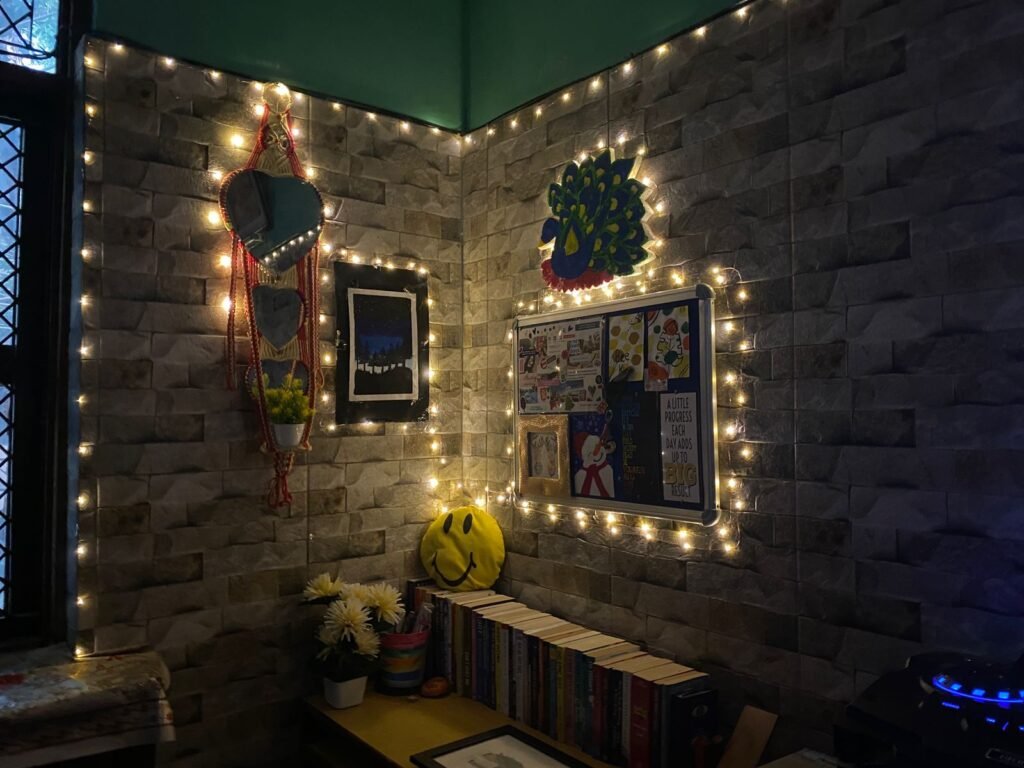 The best part is they work on battery so I don't have to fuss over getting an electric connection around my workspace. 




Conclusion
These are the best workspace essentials that I have added to my room over the years. I hope you loved reading about them as much as I loved writing about them. 
I have tried my best to find online options for all the things I bought offline. If you wish to add any of these to your workspace, you can go ahead and invest in them. 
I'd love to know which of these was your favorite workspace essential. Do share them in the comments below.