This exquisite list of Diwali gift ideas has something for each of your choices. Whether you wish to stay on a budget or splurge and spoil your loved ones, it has got many options for all of your choices. 
Diwali, also known as the Festival of Lights, is a joyous celebration filled with love, laughter, and festivities. We celebrate it to honor the triumph of good over evil. One of the most cherished traditions during Diwali is the exchange of gifts. 
This time-honored practice is a beautiful way to show gratitude, love, and appreciation to your friends and family. The act of giving gifts during Diwali holds immense significance as it symbolizes the victory of light over darkness. This auspicious occasion is not only a time for festivities but also a time to strengthen your deepest relationships.  
During Diwali, people exchange gifts as a symbol of love and appreciation. By giving gifts during this festival, you are not only embracing the years-old cultural traditions but also taking the opportunity to show how much you value your loved ones. It is a chance to make them feel cherished and acknowledged for their presence in your life. 
In this blog, you will discover 60 Diwali gift ideas that will help you to choose the best among your options and make your people feel as special and cared for as they deserve. 
60 Unique Diwali Gift Ideas for Your Special People in 2023 
Giving Diwali gifts goes beyond the act of exchanging material possessions. It is a toast to your sense of togetherness. When you present a thoughtful gift to your loved ones, you are not only conveying your affection but also creating lasting memories. 
The joy and happiness that come from giving and receiving gifts during Diwali are unparalleled. It brings people closer and enhances the spirit of this beautiful festival. 
Now let's get into the different lists one by one to help you lighten up and decided on your Diwali gifts this year. 
12 Budget-Friendly Diwali Gift Ideas
So you are on a tight budget this year. You don't want to go all out and splurge this Diwali. Well, then you don't have to. Instead, you can go all out with your love and warmth to invest your money wisely and choose from these budget-friendly Diwali gift ideas. I hope you will find something worthy in this list. 
1. Homemade sweets and snacks 
Whip up some delicious treats like ladoos, chivda, or cookies and package them in beautiful boxes. My mom especially loves to make ladoos for all our close relatives and add her flavor to the festivities. Trust me, your loved ones will appreciate the effort and love that went into making these delectable delights.
2. Handmade candles 
Create beautiful candles using wax, essential oils, and decorative elements. These handmade candles will add a warm and cozy touch to any home that receives them. If you don't have the time to create them yourself, you can also find them here. 
3. Personalized photo frames 
Print out memorable photos and place them in unique and personalized frames. Nothing says love like a memory sealed in a frame forever. This heartfelt gift will surely bring a smile to your loved one's face.
4. Plant saplings 
Give the gift of nature by gifting small plant saplings. Along with being a great option for Diwali gifts, they are great for the environment and home they go into. Not only are they budget-friendly, but they also symbolize growth, prosperity, and good luck.
5. Decorative diyas 
Paint and decorate traditional diyas (earthen lamps) using vibrant colors and glitter.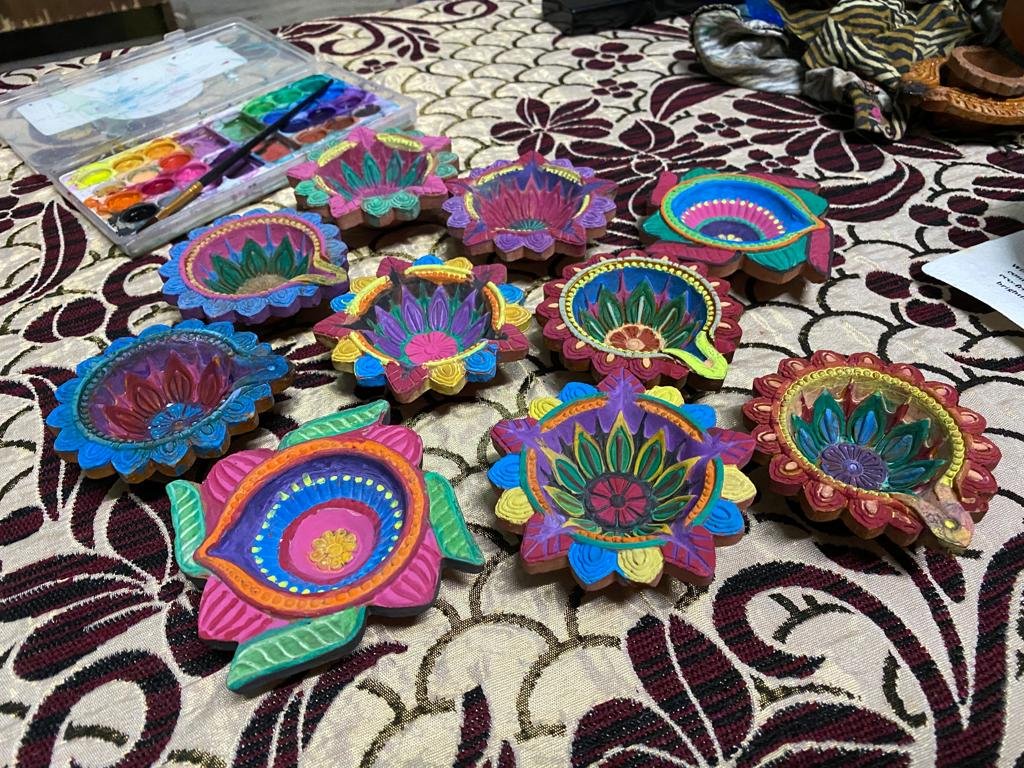 These can be used to light up homes during Diwali. I painted Diyas last Diwali with my niece and it was the most therapeutic experience ever, definitely a great idea for self care during the holidays. 
6. Handwritten letters 
Express your love and appreciation through heartfelt letters. Even though we are swamped by technology 24/7, the charm of handwritten letters will never fade away. Take the time to write down your thoughts, emotions, and feelings, and present them in a beautiful envelope.
7. Customized keychains 
You can also opt for personalized keychains with initials, names, or special messages for your loved ones. They are small yet meaningful gifts that will remind them of your love every day. 
8. Handcrafted jewelry 
You can create unique and stylish jewelry pieces using beads, threads, molded clay, or even recycled materials. These handmade accessories will not only make a fashion statement but also remind the receiver of your love and efforts that went into making them. 
9. Artistic coasters 
Paint, design or buy coasters with intricate patterns or beautiful artwork. These functional and decorative items will be a definite hit among your friends and family. 
10. Recipe book 
If your recipient is into cooking, you can compile your favorite recipes and create a personalized recipe book. This will make the perfect Diwali gift for them to try new delicacies during the festive season. It will be cherished forever as it gets passed down through generations.  
11. Personalized Diwali greeting cards 
If you're on a strict budget this Diwali, you can choose the good old Diwali greeting cards to express your love. Handwritten messages expressing your appreciation and well wishes will go a long way in making your people feel valued. 
12. Desk accessories 
If you're thinking of Diwali gifts for the youngsters in your home, stylish and functional desk accessories such as pen holders, mouse pads, and organizers will make a perfect gift. They will not only enhance their workspace but every time they sit down to work they will also remind them of your love.
9 DIY Diwali Gift Ideas
Festivities are the time to unwind and relax too. If you're anything like me then you enjoy immersing yourself in different experiments that bring out the creative in you. 
So this Diwali, instead of spending on extravagant gifts and breaking the bank, make some time to work on any of these DIY projects and give the gift of effort to your special people.
The festive season also brings a lot of holiday stress, indulging in these DIY Diwali gift ideas can also serve as a great way to look after your emotional well-being. 
Now let's see what I have in store for you: 
1. Hand-painted diyas 
Purchase plain earthen diyas and unleash your creativity by painting them with vibrant colors and intricate designs.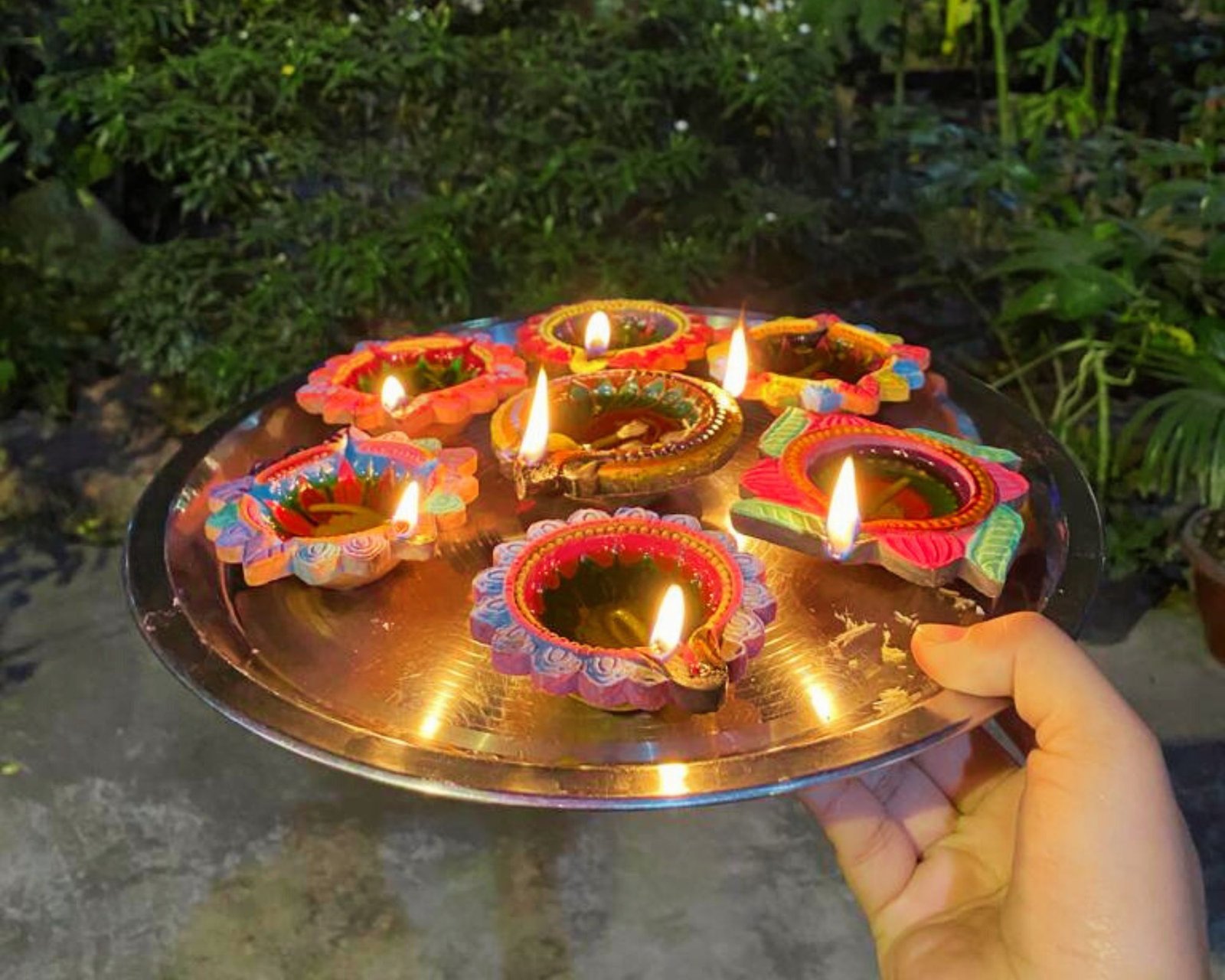 Trust me, the gliding paint will soothe your soul like nothing else and it will serve as a great reminder of your efforts to the receiver.  
2. Upcycled lanterns 
Give a makeover to your old jars or cans. Give them a new lease on life by transforming them into stunning lanterns with the help of paints, ribbons, fairy lights, and other decorative stuff that's lying around in your home. 
3. Handmade incense sticks 
Learn the art of making incense sticks at home using essential oils and herbs. These fragrant sticks will create a serene ambiance, calm the recipient's mind and help them to unwind and relax. 
4. Embroidered handkerchiefs 
If you know embroidering, you can personalize plain handkerchiefs by adding beautiful embroidery designs. As they can be used every day, these thoughtful and practical gifts will be treasured by your loved ones.
5. Hand-stitched bookmarks 
You can use colorful threads and fabrics to create unique and eye-catching bookmarks. These personalized gifts are perfect for the bookworms in your friends and family. As a reader, I know I'd love them. 
6. Hand-painted mugs 
Purchase plain ceramic mugs and let your artistic side shine by painting them with beautiful designs or heartfelt messages. You can write cute quotes on them or draw something that resembles your bond with the receiver. 
7. Homemade body scrubs 
If you want to give your special people a gift for self care then you create luxurious body scrubs using natural ingredients like sugar, coffee, coconut oil, and essential oils. These pampering gifts will be a sure-shot hit.
8. Handmade dreamcatchers
Craft intricate dreamcatchers using hoops, feathers, beads, threads, and other decorative materials. These beautiful creations will bring positive vibes to any space they are added to. 
9. DIY wall art 
Let your imagination run wild and create stunning pieces of wall art using canvas, paints, stencils, or even recycled materials.
For inspiration, you can check out my niece's YouTube Channel, she has really spiced up my workspace with her wall paintings. 
10 Luxurious Diwali Gift Ideas
While the above list of Diwali gift ideas will help you stay on track with your budget, the following list is for you if you want to explore the luxury side of Diwali gifting. 
1. Designer watches 
Gift your loved ones a stylish timepiece that will not only make a fashion statement but also remind them of your love every time they check the time. 
2. Luxury chocolates 
Indulge their sweet tooth with a box of exquisite chocolates from renowned chocolatiers. These delectable treats will make their Diwali extra special and sweet. 
3. Spa gift vouchers 
Treat your friends and family to a day of relaxation and rejuvenation by gifting them spa gift vouchers. They will appreciate the opportunity to unwind and pamper themselves.
4. Fine wine or champagne 
Raise a toast to the festivities with a bottle of fine wine or champagne. This luxurious gift will add sparkle to their celebrations. 
5. Designer handbags
You can also surprise your loved ones with a designer handbag that exudes elegance and style. This is a gift that will make them feel truly special every time they use it. 
6. Luxury scented candles
Give the gift of luxury and tranquility with high-end scented candles. The mesmerizing fragrances will set a calming ambiance for a light-hearted Diwali evening. 
7. Silk sarees
Impress the women in your life with the timeless beauty of silk sarees. These elegant garments are a symbol of grace and sophistication and they never go out of style. 
8. Premium skincare sets 
Make the men in your life take care of their skin with premium skincare sets to help them feel grounded and settled. This gift will make them feel pampered and remind them of your love.
9. Designer perfumes 
Gift them a signature scent with a luxurious designer perfume. So that every time they wear it, they will be reminded of your thoughtful gesture.
10. Exclusive holiday packages 
Surprise your loved ones with the gift of a dream vacation. Book exclusive holiday packages to their favorite destinations and create unforgettable memories together.
8 Personalized Diwali gift ideas
Let's look at some personalized Diwali gift ideas to help you customize gifts that are not just special but made exclusively for your friends, family, and loved ones. 
1. Customized nameplates 
This is a great gift option if your people have moved into a new home or if they plan to do so soon. You can get personalized nameplates made with the names or initials of your loved ones. This unique gift will add a personal touch to their homes.
2. Monogrammed towels 
If you wish to add a touch of royalty to your gifts, you can gift monogrammed towels to your loved ones. Adding a touch of elegance to their bathrooms with these monogrammed towels will make them feel eminent. 
3. Personalized calendars 
Spend some time creating customized calendars featuring memorable photos and important dates related to you and the receiver. They will appreciate this practical yet sentimental gift.
4. Engraved Jewelry 
Gift them personalized jewelry with their names engraved. This timeless and sentimental gift will be treasured forever. You can go for a chain or a bracelet or even have a jewelry set customized for them. 
5. Customized mugs 
You can get personalized mugs with their photos, names, quotes, inside jokes, or thoughtful messages. Every sip of their favorite beverage will remind them of your love.
6. Embroidered throw pillows 
Help them decorate their living spaces with personalized throw pillows featuring their photos, names, initials, or favorite quotes.
7. Engraved pens 
Give them the gift of elegance with personalized engraved pens. This practical and thoughtful gift will make them feel special and it will remind them of you every time they use it. 
8. Customized phone cases 
If your gift recipient is always on their phone or their work revolves around their phone, then this would be the perfect gift for them. You can get designer phone cases with their favorite photos or quotes. This personalized gift will protect their phones in style and it will remind them of your thoughtful gesture every time they look at it. 
Diwali Hampers: A Thoughtful and Convenient Gift Option
Diwali hampers are a popular choice when it comes to gifting during the festival. They offer a variety of items and allow you to cater to different preferences. 
With the convenience they offer, you can create a range of goodies and experiences through your Diwali hampers for your people. These are specifically good options if you want to treat your employees with the gift of acknowledgment. They are a thoughtful gesture that shows you have considered their preferences. Here are some ideas for creating Diwali hampers:
1. Gourmet food hamper 
To create a food hamper, fill a basket with a selection of gourmet treats, such as imported chocolates, exotic teas, and artisanal snacks. These will add the flavor of love and effort and make your Diwali gatherings more special.  
2. Spa and relaxation hamper 
You can put together a spa hamper with scented candles, bath salts, essential oils, and a plush bathrobe for a luxurious and relaxing spa experience for your loved ones. 
3. Wellness hamper 
If you wish to promote health and wellbeing through your Diwali gifts, you can do that by including items like fitness trackers, herbal teas, and mindfulness journals in a wellness-themed hamper.




Wellness Gifts to Promote Health and Well-being
Incorporating wellness gifts into your Diwali gifts is a great way to prioritize the health and well-being of the people you love. Here are some wellness gift ideas:
1. Fitness trackers 
You can encourage an active lifestyle by gifting fitness trackers that help your loved ones monitor their physical activity and set fitness goals.
2. Yoga mats and accessories 
To support their mental and physical well-being, you can gift them thoughtful accessories like yoga mats, meditation cushions, and calming essential oils.
3. Healthy snack subscription boxes 
If your people are easily losing track of time while working, it's time to get them back to healthy eating habits. You can help them maintain a balanced diet with monthly subscription boxes filled with nutritious snacks.
Promoting wellness among your family and friends not only shows that you care about their health but also contributes to a more productive and positive environment around all of you. 
3 Tech Gadgets for the Tech-savvy Friends 
If you have tech-savvy friends and family members, they will appreciate gadgets as gifts that enhance their productivity and make their lives easier. 
Here are some tech gift ideas for your tech-savvy people: 
High-quality wireless earbuds allow your loved ones to enjoy music or take calls without the hassle of tangled wires.
Help your employees stay connected on the go with portable chargers that provide a quick power boost for their devices.
Smart speakers, voice assistants, and home automation devices can make their living spaces more convenient and enjoyable.
Tech gadgets are not only practical but also demonstrate your understanding of your employees' interests and preferences. They show that you are keeping up with the latest trends and technologies.




3 Diwali Gift Ideas to Fuel Creativity 
If you want to go beyond the traditional ritual of gifting and surprise your loved one with something creative, out of the box, and unique gestures, consider these ideas:
1. Art workshops 
You can sign up for art workshops or classes on behalf of your friends and send them to explore their creative side and learn new skills.
2. Experience vouchers 
Give your people the gift of an unforgettable experience, such as a hot air balloon ride, a cooking class, or a spa retreat.
3. Personal development books 
Nothing says "I care for you" more than books. If you have a reader in your circle, you can select books that inspire personal growth and provide valuable insights into leadership and success.
9 Unique and creative Diwali gift ideas for specific recipients (e.g. parents, siblings, friends)
1. For Parents:
Create a beautiful collage featuring memorable family photos. This gift will evoke nostalgia and bring tears of joy to your parents' eyes.
b. Spa day vouchers
Treat your parents to a day of relaxation and pampering by gifting them spa day vouchers. They deserve some well-deserved rest and rejuvenation.
Commission a customized family tree artwork that showcases your ancestral lineage. This gift will honor your parents and their legacy.
2. For Siblings:
Compile a photo book filled with funny and heartwarming pictures of you and your siblings. This gift will remind them of the bond you share.
b. Adventure experiences
Gift your siblings the thrill of adventure with vouchers for activities like skydiving, bungee jumping, or zip-lining. Create unforgettable memories together.
c. Personalized sibling bracelets
Get matching bracelets with personalized engravings that symbolize your unique sibling bond.
3. For Friends:
a. Customized friendship bracelets
Create matching friendship bracelets with personalized charms for your closest friends. This gift will symbolize your everlasting friendship.
b. Movie night package
Put together a movie night package complete with their favorite movies, popcorn, and cozy blankets. Spend quality time together and enjoy a movie marathon.
c. Personalized friendship photo frames
Print out memorable photos of you and your friends and arrange them in personalized frames. This gift will remind them of the special moments you've shared. 




5 Packaging and presentation tips for Diwali gifts
As you wrap up your Diwali gift-giving experience, remember to make it memorable for the receiver. By going the extra mile to create a memorable gift-opening experience, you reinforce the bond you share with them. Here are a few tips to ensure a positive and impactful experience:
a. Handwritten notes 
Include personalized handwritten notes with each gift, expressing your gratitude and highlighting specific accomplishments or anything that you would want to say to them. This will make them feel even more special and show that you put thought and effort into the gift. 
b. Presentation matters 
Pay attention to the presentation of your gifts. Use attractive wrapping paper, ribbons, bows, and name tags to add a festive touch. Make sure to choose designs that reflect the festive spirit of Diwali.
c. Decorative elements 
You can also enhance the presentation by adding decorative elements like dried flowers, sparkles, or small ornaments. These small details can make a big difference in the overall aesthetic.
d. Themed packaging 
If you want to go the extra mile, you can also use themed packaging that aligns with the recipient's interests or preferences. For example, if they love traveling, use map-themed wrapping paper or a miniature suitcase as a gift box.
e. Reusable packaging 
Opt for eco-friendly and reusable packaging options like cloth bags or reusable gift boxes. This not only reduces waste but also adds an extra element of sustainability to your gift-giving.
Conclusion
As the Festival of Lights approaches, it's time to start thinking about the perfect Diwali gifts for your friends and family. 
Whether you opt for budget-friendly options, DIY creations, luxurious presents, or personalized gestures, remember that it's the thought and effort behind the gift that truly matters. 
Use the ideas mentioned in this blog as inspiration, and let your creativity shine through. Spread joy, love, and happiness with thoughtful Diwali gifts that will create lasting memories for years to come.
So, what are you waiting for? 
Start brainstorming and planning your Diwali gift list now. Let this Diwali be a celebration of love and togetherness, made even more special with your creative and thoughtful presents.