Do you wish to infuse some excitement and novelty into your relationship? Planning a couple's date is an art that requires the right mix of creativity, thoughtfulness, and a touch of spontaneity. In this blog, you will learn +25 couple date ideas which are not just fun but affordable ways to strengthen your bond.
Who says you need to break the bank to have a memorable and meaningful date?
Some of the most cherished moments can be created with a shoestring budget and a dash of creativity. 
Whether you're in the early stages of romance or celebrating years of companionship, the key is to create experiences that resonate with both of you.
Planning a budget-friendly couple's date is not only a testament to your resourcefulness but also an opportunity to focus on the simple joys of togetherness. 
Opting for budget-friendly couple dates is a mindful choice that not only strengthens your bond with your partner but promotes financial wellness along with a lasting foundation for your relationship. 
Having date nights is essential to keep the spark alive in your relationship but they don't need to be expensive. 
In this blog, you will understand why dates are important to grow your relationship. Plus, I will share +25 couple date ideas that will be easy on your pocket and help you create more memorable dates together in the future. 
+25 Cute Couple Date Ideas That Will Not Break Your Bank
Couple dates are essential for maintaining and nurturing your healthy, thriving relationship. 
With life's demands and routines, dedicating your time to shared experiences as a couple becomes a crucial investment. These intentional moments provide an opportunity for emotional connection, communication, and the renewal of romance.
It need not always be expensive, fancy things to do together. Planning budget-friendly dates encourages your creativity and resourcefulness. 
Hence, instead of relying on expensive outings, you're prompted to think outside the box, coming up with unique and personal ideas that can be just as, if not more, memorable. 
When the pressure to spend a significant amount of money is removed, the emphasis shifts to the quality of time spent together and creating lasting memories. It allows you to concentrate on meaningful conversations, shared activities, and the overall experience rather than the monetary investment. 
Engaging in simple, budget-friendly activities often provides a more intimate setting for couples. These budget-friendly couple date ideas encourage appreciation for the little things in life.
What is the Importance of Couple Date Nights?
Date nights are more than just a luxury; they are a crucial investment in the health and longevity of a relationship. In the hustle and bustle of daily life, it's easy for couples to get caught up in routine and forget to nurture the romantic aspects of their connection. 
When my partner and I were dating in college, we would go on dates often. We would take these times for granted then. But, as we got into our jobs the time for each other got less. 
Our work timings were different and there were days when we hardly saw each other. Over time, we realized the importance of having a date night to spend time together. So now we plan and look forward to that day and it keeps the spark alive in our relationship.
Date nights provide an opportunity to step away from the stresses of work, household chores, and other responsibilities, allowing you and your partner to focus on each other and strengthen your emotional bond.
They offer an opportunity for exploration, whether it's trying new experiences, or hobbies, or simply discovering new facets of each other's personalities.
Here are 4 studies that confirm the importance of couple date nights: 
 Thus, date nights serve as a deliberate and conscious effort to prioritize the relationship. They contribute to the overall well-being of your partnership, fostering love, communication, and a sense of shared adventure that keeps the flame of romance burning bright.
Can Date Nights be Budget-Friendly?
Yes, date nights can be budget-friendly. These activities prove that creating meaningful connections doesn't require extravagant spending. 
The essence of a great date lies in the shared experience and quality time spent together, not the price tag.
By getting creative you can enjoy delightful moments with your partner without breaking the bank. There are many affordable and charming options, that can make budget-friendly dates a smart and satisfying choice for nurturing relationships. 
+25 Cute and Budget-Friendly Couple Date Ideas 
Creating memorable and charming moments as a couple is not as complicated as most people perceive it. Some of the most heartwarming and delightful experiences can be found in the simplicity of budget-friendly date ideas. 
Let's explore over 25 cute and affordable couple date ideas that are sure to bring joy, laughter, and a touch of romance into your relationship.
1. Picnic in the Park
Pack a basket with your favorite snacks, sandwiches, and a blanket. Head to a local park for a cozy and intimate picnic.
2. Movie Night at Home
Choose a selection of your favorite movies or explore new ones together. Create a home cinema with popcorn and blankets for a cozy movie night.
3. Thrift Store Treasure Hunt
Challenge each other to find the most unique or quirky items at a thrift store. It's a fun and budget-friendly shopping adventure.
4. DIY Pizza Party:
Make pizza together from scratch. Set up a variety of toppings and enjoy the creative process of creating your personalized pizzas.
5. Nature Walk or Hike:
Explore nearby trails or nature reserves. A peaceful nature walk or hike is a great way to connect and enjoy the outdoors.
6. Stargazing Night:
Go to a quiet spot away from city lights, lay out a blanket, and gaze at the stars. It's a romantic and tranquil way to spend an evening.
7. Board Game Bonanza:
Dust off your favorite board games or discover new ones together. A little friendly competition can add excitement to your night.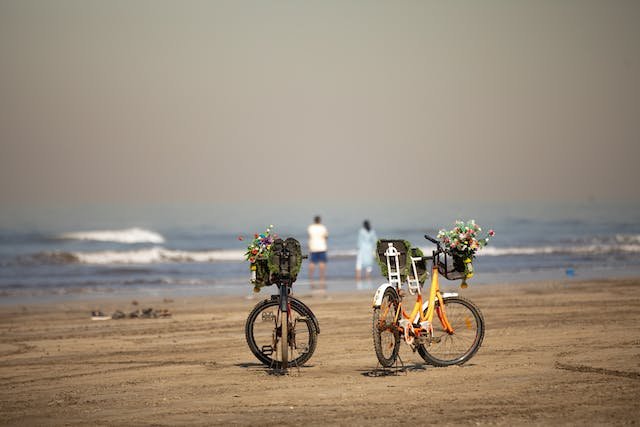 8. Sunset Bike Ride:
Take a leisurely bike ride together, especially during sunset. It's a picturesque and active way to enjoy each other's company.
9. Coffee Shop Date:
Skip the expensive cafes and opt for a cozy local coffee shop. Enjoy a cup of coffee or tea while engaging in meaningful conversation.
10. Beach Day (if applicable):
If you're near the coast, a day at the beach can be both romantic and budget-friendly. Lounge in the sun, take a dip or simply enjoy the sea breeze.
11. Art Gallery or Museum Visit:
Many galleries and museums offer free entry on certain days. Explore the local art scene together and appreciate the exhibits.
12. DIY Craft Night:
Get creative with a DIY craft night. Whether it's painting, making homemade candles, or crafting personalized items, it's a fun way to express yourself.
13. Karaoke Night at Home:
Create your karaoke night at home. Pick your favorite songs, sing your hearts out, and perhaps discover some hidden vocal talents.
14. Bookstore Adventure:
Spend an afternoon browsing books at a bookstore. Pick out a book for each other and later share your thoughts over a cup of coffee.
15. Farmers' Market Excursion:
Explore a local farmers' market. Sample fresh produce, find unique ingredients, and challenge yourselves to cook a meal together.
16. Outdoor Movie Night:
Check for any outdoor movie screenings in your area. Enjoy a movie under the stars with a blanket and some snacks.
17. Community Events or Festivals:
Look out for free community events or festivals. Whether it's a street fair or a cultural celebration, it can make for a lively and entertaining date.
18. Cook-Off Challenge:
Have a friendly cook-off at home. See who can create the tastiest dish by giving it a theme or an ingredient.
19. Photography Adventure:
Explore your town or city with a camera in hand. Capture interesting sights, landscapes, or even candid shots of each other.
20. Ice Cream Date:
Visit an ice cream parlor or grab a tub from the grocery store. Create a mini sundae bar at home and enjoy your favorite frozen treats together.
21. Volunteer Together:
Give back to your community by volunteering together. It's a fulfilling way to spend time as a couple while making a positive impact.
22. Indoor Camping:
Set up a blanket fort in your living room, complete with fairy lights and cozy blankets. Share stories, play games, and enjoy indoor camping without leaving home.
23. Fondue Night:
Make a simple fondue setup at home with melted chocolate or cheese. Dip fruits, marshmallows, or bread for a sweet or savory treat.
24. City Scavenger Hunt:
Create a city or neighborhood scavenger hunt. Prepare a list of clues or landmarks and enjoy a day of exploration and adventure.
25. DIY Spa Night:
Create a spa-like atmosphere at home. Make homemade face masks, run a bubble bath, and enjoy a relaxing evening pampering each other.
26. Bike Rental Adventure:
Explore your city or town on rented bikes. It's an active and inexpensive way to discover new places together.
Plant flowers or herbs together in your backyard or balcony. It's a nurturing activity that symbolizes growth and partnership.
28. Art and Wine Night at Home:
Set up your art studio at home with canvases and paints. Sip on budget-friendly wine while expressing your artistic talents.
29. Rock Climbing (Indoor):
Check if there's an indoor rock climbing gym in your area. It's a thrilling and adventurous date without the need for expensive gear.
30. Mini Road Trip:
Plan a mini road trip to nearby scenic spots. Pack a picnic, hit the road, and enjoy the journey together.
Conclusion
These budget-friendly couple date ideas will not only bring out your creativity but also emphasize the importance of shared experiences and quality time in a relationship. 
Whether you're exploring the outdoors, getting crafty at home, or simply enjoying each other's company, these cute and inexpensive date ideas are sure to create lasting memories.
They will bring back the beauty of shared moments without the need for grand gestures or hefty price tags. They resonate with the essence of togetherness.
These couple date ideas are a reminder that the most cherished memories are often born from the simplest of gestures. The key here is to savor each moment, relish the laughter, and celebrate the beauty of love found in everyday adventures with your significant other. 
After all, it's the shared smiles, quiet conversations, and the warmth of companionship that truly make these couple date ideas the heartwarming experiences they are.
So, go ahead, pick an idea, and create memories that will be cherished without straining your budget. Remember to keep it personal, sprinkle in a bit of surprise, and let the date unfold organically for a memorable experience that strengthens your bond.