Even before I begin writing this, I am already assuming that a lot of my beautiful readers are going to connect with what I am about to share. Obviously, thanks to Covid-19. This year has been a roller coaster ride in its true sense. From getting locked in our own houses to working from home full time, it has been a journey.
2020, the year of uncertainties and realizations. While welcoming this year, none of us ever thought what we were getting ourselves into. But that is exactly what life is all about – challenges. Isn't it?
The world has learned so much this year. From the personal to professional lives – the shifts that have been made and the new ways that have been picked up – it is nothing that any of us could even think in our wildest dreams.
From all that we have learned, there was this one word that has become the highlight of this year. Yes, you guessed it right – Q U A R A N T I N E
While the pandemic brought a lot of difficult situations and unexpected circumstances for everyone, many couples suffered too. Distance and separation were just another inverted consequences of the pandemic for people who thought of it in any other way.
I know how painful it is to stay away from the only person you want to be with. I exactly know how it feels. I have been doing it for a long, long time by now.
A lot of you must be separated from your partners owing to the restrictions imposed at your places or the guidelines that are being followed due to the pandemic.
But, how do you make your heart understand that? After all, the heart wants what it wants. And, it barely listens to the mind. Mine never does 😉 So, what do you do when you have to stay away yet you want to make it special. Or, if not special, then maybe a little less miserable let's say.
Well,  here are 5 simple and easy things for you lovely people to follow and make this quarantine or the separation period less difficult for both you and your partner. Enjoy!!!
Drawing together in quarantine
If you and your partner happen to like drawing or painting, this could be a really fun task to keep the spark alive and eradicate all the boredom.
All you need are your essentials for the activity and you are good to go. But, the catch is that even if you are drawing together while face timing each other, you can always turn it into a healthy competition.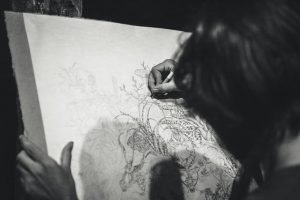 Drawing or painting at the comfort of your home, but competing with each other for the same can a great option to spend some time together and do something different than the usual talking.
Singing for each other
I know this might sound cliché, but hey, why would you not sing and annoy them? Especially, when you know it hurts their ears a little too much.
Holding a little karaoke session for nobody else but only the two of you, how adorably romantic that sounds?  Judging each other's singing skills, even though you are already aware of them, and simply missing each other while you hear them sing for you.
And, if you are a good singer unlike me, go and treat your partner with some love and admiration. This would surely make them happy.
Sending them personalized emails
I know you would say, why to send emails when you can simply text them directly. But hey, a little affirmation hurts nobody.
Also, if you are quarantined at different places, you have anyways spent the whole duration by communicating with each other via messages. So, make it something unusual. Send them a cute note in an email today.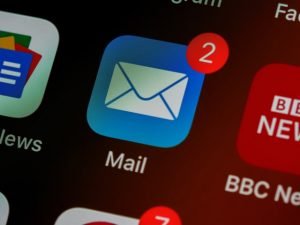 Who wouldn't feel good receiving some happiness from their loved ones among all the work emails in their inbox? This will surely bring a smile on their face.
Eating a meal together
I could have easily phrased this idea as "plan a virtual date night", but I didn't. Because hello, I believe all of us have become too lazy this year to even call it a 'date'.
Therefore, as you stay in the comfort of your home, switch off the other distractions and simply have one meal of the day together, if you can.
It might not make a huge difference in the present. But, these memories you create today will give you reasons to cherish these times tomorrow.
Simply enjoying your favorite activity together
Every relationship is different and every couple has got something special and unique within their story. Every love story has that 'very thing' associated with its essence.
So while you continue the wait to see each other, plan to do your own thing together. It could be anything under the sun. Maybe you can binge-watch your favorite show together or you can spend time doing some gardening or you can simply cook each other's favorite dish.
It is simply something that belongs to both of you and nobody else. Do it together, this time virtually.
Conclusion
Distance is nothing but the test of time. While not all can stand it, those who do have different stories to tell. I know it is easy said than done but trust me when I write on his topic every time, I exactly know how and what it feels.
The time is tough but so should be your desire to stay. Making each other feeling loved is not difficult when you truly want it to work.
And, it is not going to be all rosy and pretty as movies make it look. But the final destination of this journey will make it so much worthwhile at the end.
"Absence is to love what wind is to fire; It extinguishes the small, it inflames the great." – Roger de Bussy-Rabutin
Quarantine or no quarantine, the present scenarios around us shall be the reminders to check up on people we love, to make sure they are doing fine and to let them know that if nobody else, they always have you beside them.
I hope the above-mentioned ways would help you in spending the quarantine together in peace, even while you are separated physically. I know nothing can replace the feeling of being with them in reality, but till times allow, let's just make the most of it as of now.
Side note: A little piece of the happy announcement from my side, last week I just got featured in the Top 100 Lifestyle blogs in India. Don't forget to check this list out as I continue to bring some more good reads for you in the future.
Thank you for sticking around and reading everything I share.