Most people don't care to get a trim until their hair is full of fried split ends. If you are one of them, you don't realize the amount of damage you're doing to your hair. The key to having strong, healthy, and lustrous hair is to trim your hair frequently. In this blog, I bring you a comprehensive guide on how often you should trim your hair.  
If your end hair-care goal is to grow your hair, trimming must sound ridiculous. With all the stereotypes going around hair care, I don't blame you. 
When I first heard someone suggest that I trim my hair, I thought they were crazy. But contrary to such belief, trimming your hair helps you grow your hair healthier and lustrous. 
If you have ever asked yourself, "How often should you trim your hair?", let me help you with the answer.   
How Often Should You Trim Your Hair? Your Comprehensive Guide 
It is said that you should trim your hair every six to eight weeks. Contrary to popular belief, cutting your hair will make your hair grow longer. The more frequently you get a haircut, the fewer split ends you will have. 
As a golden rule, ensure that you get a haircut within 6 months – no matter what. After a certain period, the quality of your hair routine doesn't matter. Your tips will get frayed.   
Does trimming hair keep it healthy?
Absolutely! Hair trimming is an essential part of ensuring healthy hair. It helps you to keep your hairstyles sharp and gives you a healthy look. 
This process may not help you grow your hair faster but snapping off those frizzy ends will keep your ends healthy. With regular trims, your hair will grow stronger and beautiful. 
How often should you trim your hair? 
There is no definite answer to when you must trim your hair. However, it usually depends on your goal. It's better to ask yourself two questions. 
Are you not able to achieve your desired hairstyle?

Are your hair ends visibly damaged?
If your answer to either of these questions is yes – it's time to book a salon appointment. If you leave split ends untamed, the split end will only grow deeper into your hair shaft. 
This makes your hair strands so thin that they would break easily. What this means is that the more you wait to get a haircut, the more hair fall you will experience.  
If you frequently dye your hair and use heat or styling products, you may need frequent trims. This is because such hair breaks more easily. Additionally, there are some not-so-obvious signs that you can look out for. For instance,
Dry hair

Difficulty brushing your hair all the way through

Styling your hair takes more time 
Getting a trim when you see these signs is not mandatory but it will surely save you time and money. 
How often should you trim your hair if you have bangs?
Bangs are supposed to have a certain length. If they get into your eyes, they won't serve the purpose. Therefore, you must get them trimmed once every 2 weeks.
You should meet a hairstylist to trim your bangs. But if you must do it on your own, shampoo and dry your hair before it. Wet hair shrinks when it dries and you may end up looking like a Pikachu. 
How often should you trim your hair if you have this length? 
1. Short Hair
If you want to maintain your pixie cut or French bob, you will need a haircut once every two to four weeks. Short hair tends to look overgrown earlier than longer hair. They lose their unique features quickly. Frequent haircuts will help you keep it sharp. 
One method that I prefer is hair dusting. It is a trimming method where the split ends are removed strand by strand. This way, you can slay your hairstyle while ensuring hair health. 
Additionally, use a silk pillowcase to create a smooth slippery surface for your hair. It will not merely preserve your style but retain the hair moisture too. It ultimately prevents breakage. 
2. Medium Hair
Those Sleez Lob and Beach Waves that people find amusing come under medium-length hairstyles. 
Such hairstyles take some time to appear overgrown. You can choose to trim them once every six to eight weeks. You can even choose to leave your hair longer for like 8 to 12 weeks.  
Ensure that you use shampoo and conditioner only twice or thrice a week. Overusing these products can make your hair super dry and break them easily. For combing your hair, make sure you invest in a wooden comb to prevent hair damage as it is more gentle on your scalp and hair. 
3. Long Hair
When compared to other hair types, long hair is more forgiving. They are normally low maintenance which means you trim your hair anywhere between three to six months. It's a bonus if you don't color or use heat on your hair. 
However, don't let it get into your head. As long hair is older compared to short hair, they are more susceptible to breakage. Once you start feeling that styling your hair takes longer than normal or is too dry and brittle, it's time for trim.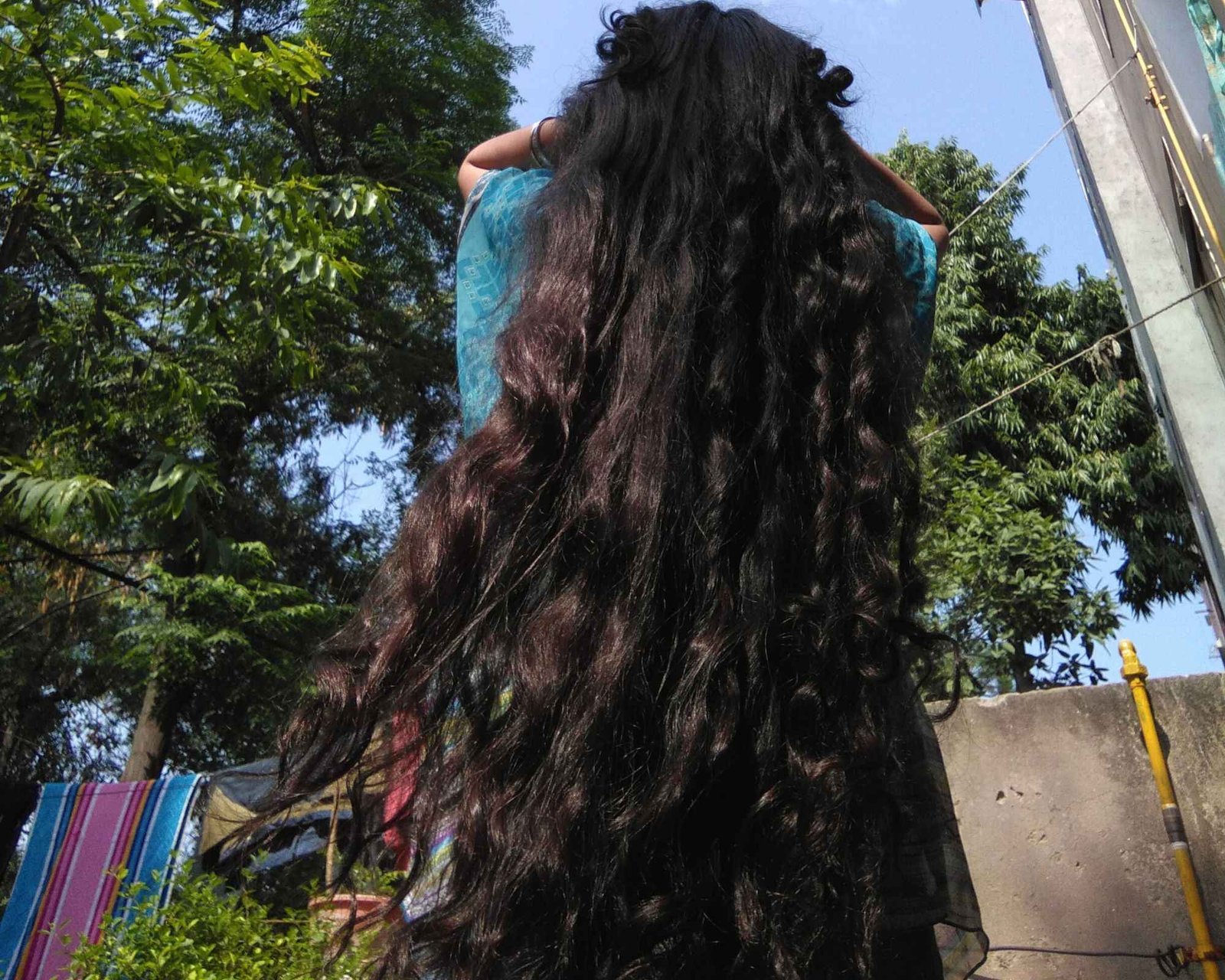 Avoid waiting for warning signs like split ends and greasy ends because when this happens, you have waited for too long.   
4. Layers
The layers are supposed to frame your face and highlight your features. It doesn't matter if you want to maintain short-layered or long-layered hair, you must get it trimmed regularly. This is because different layers grow at different paces. 
It means that your hair can become frizzy more easily when compared to other hair. The key is to avoid it by using moisture-rich hair products. When styling your hair, ensure that you use heat-protectant products. 
Above all, be mindful about trimming your hair. Doing it once every 6 weeks will help you keep the hairstyle sharp and classy.  
How often should you trim your hair if you have this hairstyle?
1. Straight or Wavy
People with straight or wavy hair can wait for ten to twelve weeks to book their appointment. But if your hair is fine, you would have to book that appointment a couple of weeks earlier. 
2. Kinky or Curly
The thing with curly or kinky hair is that even if it grows, it doesn't appear any different. Therefore, people with such hair can chop off their hair once every six months. 
3. Coily
Coily hair tends to get dry more often than other hair types. Most of the time, such hair results in fragile hair. If you experience this, a smart hair stylist would recommend you get a trim once every twelve weeks.   




How often should you trim your hair if you have this texture?
1. Coarse Hair 
Coarse hair is stronger than fine hair but it is less pliable and more prone to dryness and split ends. Thick-haired people, like me, can go on for months without hair trim and still slay the stage. This is not to say that we are immune. Like any other hair type, we also need to get a trim regularly to keep them healthier and shiny.  
2. Fine Hair
People who have thin hair tend to have less outgrow of hairstyle. However, their hair is more prone to breakage while using hot tools and building products. Plus, they also tend to lose their luster. This is why people with fine hair must get their hair trimmed more often.   
What if your hair falls into multiple categories?
It's perfectly natural to have your hair fall into multiple categories. It doesn't matter if your hair is straight, curly, wavy, coarse, or fine. Seek advice from a professional. However, it is always best to trim your hair once every couple of months.  
6 Warning signs it is time for a trim 
People who prefer longer hair often wait for warning signs before they trim their hair. Experts, however, say that it's better to trim your hair before you start to see the signs. This is because by the time warning signs show up, the damage is done.  
For the times when you cannot get ahead of the damage, here are some signs that you must look out for:
Split ends

Hair snaps easily at the bottom

Gummy texture at hair ends

Losing your curls

Frizzy hair ends 

Split ends moving up into the hair shaft
No matter how well you keep your hair, the maximum you can avoid a haircut is for six months. After that point, the hair ends and starts to fray. 
Conclusion
Attaining healthy and lustrous hair as magazine models isn't a far-fetched goal anymore. That is if you put in the effort to follow a healthy hair care routine. 
Having said that, your genes play a vital role in determining the quality of your hair but following the right steps can also help you improve its quality. 
Trimming your hair is as important as massaging your scalp. Especially if you have moved past the warning signs. If you ever find yourself asking, "How often should you trim your hair?". Use this comprehensive guide. Even better, talk to a professional hairstylist. Your hair will thank you.