6 Fun Activities To Do With Your Family In  Summer
Summer activities are fun to do, especially when you are spending it with your family. Do you remember that one activity you used to do every summer? I had two. The first was visiting my grandparents and spending my summer days with my cousins and the second was visiting a water park every summer with my mom, dad, and my younger brother. 
Ah! Childhood is indeed special. All you have to worry about is eating, sleeping, and yeah, studies too. Remember the days when you wanted to grow up so badly thinking that adults have their shit together. Yeah, I do. And, today I only laugh remembering that time and looking at myself today. 
I mean, yeah! I am doing good in life. I am a freelance copywriter. I run this blog and write and earn. Life is going fairly well. But, you know, adulting has its own "perks", which we refer to with the word "responsibility" in the present world. 
Hi there, welcome back to my blog. I know, it's been long. I'll be honest I was swamped with the client's work. And, I was struggling to maintain a balance. But, now that I am back, I promise I'll be more regular now. 
So, back to the discussion now. What were some of your favorite summer activities back in the day? 
I guess I got you thinking, right? There were too many back then whereas today, sadly, it is all sealed inside a laptop, tablet, or mobile phone. But, what if you could change that for your child? I know you cannot be around your kid all the time but what if we could bring the fun and give them a happy, memorable childhood as we had. 
Because of the pandemic, many countries are still in lockdown. The kids are bored. They are finding it hard to cope with staying at home without meeting their friends. And, the coming summer will probably be similar to yesteryear.  
Some Summer Activities For You To Have Fun With Your Kids And Family
1. Hopscotch
It's the summer of the early 2000s. I am at my grandparent's house with all my cousins. And we are able to play this fun game. Yea, that was how I spent my childhood, at least some parts of summer. You can help your kids do the same.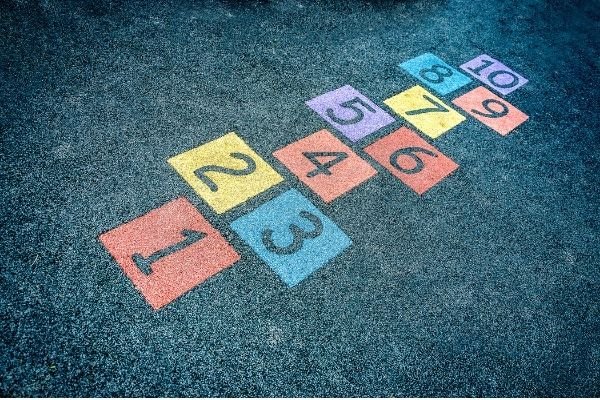 We used to do it on the ground with chalk or brick. You can use tape or the "glow in the dark tape". It just takes a few minutes to tape the hopscotch table. Add as many numbers according to the space you have. And, you are good to go. Happy hopping! I hope this brings a smile to your kid's face.
2. Paper art
I cannot even recollect the number of items I have made with paper during my summer holidays. We used to get this creative artwork to do from school and it was one of the highlights of my summertime with family. My mom and aunt used to help me create these different shapes from paper and we used to have some great time together. 
3. Indoor camping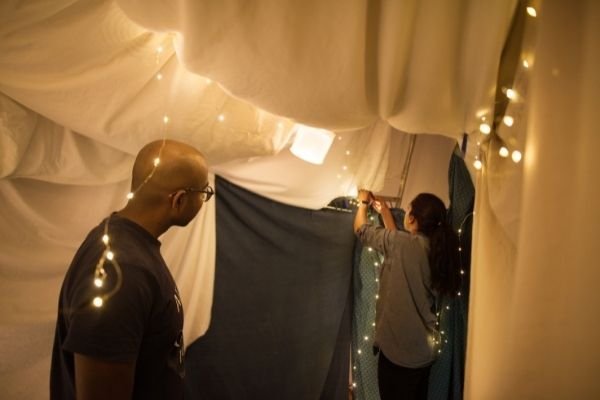 Okay, I recently did this with my niece and nephew and it brought back all the good memories of me and my brother doing the same. Surprisingly, just like us, they were also using sofa cushions as the walls of the camp and a blanket as the roof with a pole standing in the middle to balance it out. 
I had a really good time chilling with my babies and reciting them the stories of my childhood. I'll be doing that when I have my kids too. It's absolute fun.  
4. Storytelling
Bedtime stories from mothers and grandmothers are something to cherish forever. There were summer nights when we used to lie down on the terrace and watch these twinkling stars while the wind blew slowly.
My mom would lie beside us. She would recite these stories of kings and queens that I and my brother used to listen to incomplete aww as if they were real. And, now our mother teases us for believing every fake story she told us. I mean common, can you really blame us? 
Tell stories to your kids about some fancy, imaginative world. I believe kids deserve that illusion considering the reality is so absurd. 
5. Recycling waste
Another fun activity credited to my school. Those holiday homework "recycle waste" activities are a major reason for my love of art and craft. As a child, I always enjoyed making something new out of something that is typically redundant. This can be a very great way time to kill the boredom and get your people to work and use the 'new' thing for a purpose. 
Some of the things that I remember making are a bag from an old pair of jeans, a bracelet from unused ribbons, a photo frame from thick drawing sheets, an exploding photo box from paper, and a heart-shaped photo booth from a newspaper among so many others. Yes! I am creative in aspects other than writing.  
6. I-spy game 
Raise your hand if you have ever pronounced this game as 'ice spice'. I am raising both. It's a fun game to play with your kids and pretend to not even see when you actually do. Plus, the giggles that follow when you catch your child are too precious to resist this game. I have played it with the kids of my aunt and they absolutely love it. So try it. 
Conclusion
These were some of the many summer activities you can try with your children and give them a memorable childhood. Unlike other fancy options, they don't require anything expensive. 
All they need is your time and loads of love for your family. And I know, you got that already. 
I had a really fun time visiting back my childhood while writing this blog for you. I hope you enjoyed reading it too. And, I believe you will enjoy it much more when you will do them for real with your family members. 
Creating new things out of waste has to my favorite of them all. What is yours? Comment below. I'll look forward to reading your answers. 

As usual, if you want to stop by and connect with me, here are my Instagram & LinkedIn accounts. 
I'll see you soon next week. Till then, keep loving your family and stay happy with them.
Bye!!!
Also Read: